We offer photo designed merchandise for the animal lover and the lover of the tropics.
From wildlife animals to dolphins to reptiles, the animal enthusiast will go crazy over gorillas, elephants, zebras, lions, rhinos, dolphins and alligators of the Everglades.  We also feature a variety of items of our pets!
There's something for every lover of the Tropics from palm trees to sandy beaches to deep blue waters of the ocean to seashells to the Everglades. The beach lover will go crazy over various beach scenes, ocean views, sea shells, sandy beaches, and gorgeous views of the Everglades. Enhance your life with Floridian lifestyle gifts and wildlife culture gifts.
We also offer a variety of spiritual gifts!
Since this store was started in honor of our Luna girl, we also have items regarding canine cancer.
CHECK OUT OUR CANINE CANCER SECTION AT OUR STORE!

We provide the designs and the merchandise and printing is provided by Zazzle and CafePress. We have a store at each of these companies.  Our designs are printed on their merchandise and processed through them.  Each store also provides their own customer service support and shipping policies.
Our store specializes in Home Decor but also offers t-shirts, accessories, greeting cards and craft supplies and so much more.  On many of our items, you can customize our designs to personalize them.
These are only some of the items that we carry.  Go to our store for additional items and get your special gifts today!  You can go directly to our website at Luna's Love of Life Gifts at www.zazzle.com/lunasloveoflifegifts
We have added 2 additional stores.  We have changed Luna's Love Of Life Gifts store to Lunas-Nature-Landscapes as this store will specialize primarily in nature and landscape items.  As this is our main store, our Personalized items and non-religious Christmas items will be in this store also.
Our second store is named Kims-Animal-Kingdom which specializes in wildlife and pets.  It will have many different types of wild animals like zebras, wolves, horses, rhinos, elephants, giraffes and many more animals.
Our third store is IvyBella_Spiritual_Love which will consist of religious, christian and inspirational items.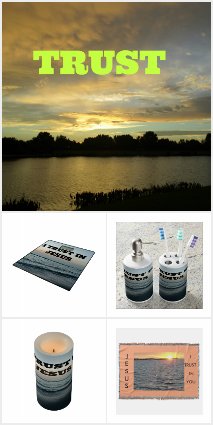 Trust
by
Linda Jonas

2 Comments