I am in the process of revamping my store Luna's Love of Life Gifts.  I have decided to concentrate on my store at Zazzle.  It has awesome printing and they keep adding lots of different items which I can place all my designs.  I still do have my 2 stores on Cafe Press.  I have been doing more research on SEO, tagging and good descriptions to help my designs to come up on top.
I went from one store on Zazzle to 3 different stores.  I have tried to narrow each store by theme.  One store is geared to nature, landscapes, beaches and the ocean.  My second store is dedicated to animals.  Wild animals and our dearly beloved pets.  My third store is inspirational and religious items.  This is my way to spread the good news of Jesus.
I changed Luna's Love of Life Gifts store name to Luna's -Nature-Landscapes.  Obviously by the name of the store this one will carry the landscapes and nature items.  Zazzle is known for their personalizing of many of their items so I have set up many items that can be personalized but which doesn't fit in any of my store's theme.  Since Luna's-Nature-Landscapes is my main store I have put these items in this store.
I do have personalized items that pertain to pets which I have put in my second store, Kims_Animal_Kingdom.  This store will have everything related to wild animals and pets.
My third store is IvyBella_Spiritual_Love.  All items in this store will be related to God, inspirational and religious merchandise.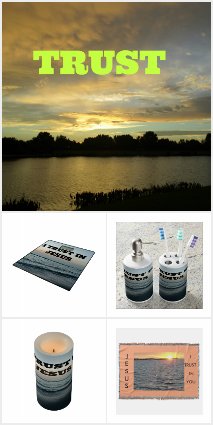 Trust
by
Linda Jonas
I am continually adding more items to my stores.  There are so many products on Zazzle that it does take a long time for just one design.  I am one who needs to be organized so I am doing a small group of products at a time with each of my designs and then I will pick another set of products.
My main reason for starting my store was to raise money for canine cancer research!  As my "about" page explains my reasons for starting this store.  My precious Luna girl (golden retriever) lost her battle to cancer within 4 months time in 2011!  So I am still determined to make this store a success to raise money for canine cancer research!  I will donate 10% of my profits to the Morris Animal Foundation's Golden Retriever Lifetime Study!  All the profits from the "canine cancer" section in my main store will be donated to Morris Animal Foundation.
I am also getting into the Zazzle Affiliate Program which will result in more profits allowing me to give additional money to the program.  That's why a lot of my posts will be showing other designer's designs along with my own.